Batch 2021
The health industry needs new innovative solutions
Terkko Health X is an ambitious pre-incubator for health tech and life science teams with the aim to support Finland-based entrepreneurship. Terkko Health X is aimed towards early-stage teams with the ambition to create impactful solutions that solve real problems. You've got an idea – Terkko Health X provides you with the right skills and services to take that concept into the market.
BATCHES
3
TEAMS
26
ALUMNI
18
MENTORS
40+
Top three teams
Batch 2021 consisted of eight intense top-notch teams. Below are listed the top teams of the batch and their prizes.
1st place: Biomedical Spectroscopy Lab / UEF
2 Slush startup tickets, a grant of 2500€ from Helsinki Think Company Fund and hot desks for the team at Terkko Health Hub coworking spaces.
2nd place: Immunate
1 Slush startup ticket and hot desks for the team at Terkko Health Hub coworking spaces.
3rd place: Food Waste to Bandage
Hot desks for the team at Terkko Health Hub coworking spaces.
For all teams
Additionally, all teams of Terkko Health X batch 2021 will receive 10K free Amazon Web Service cloud credits thanks to our partner AWS.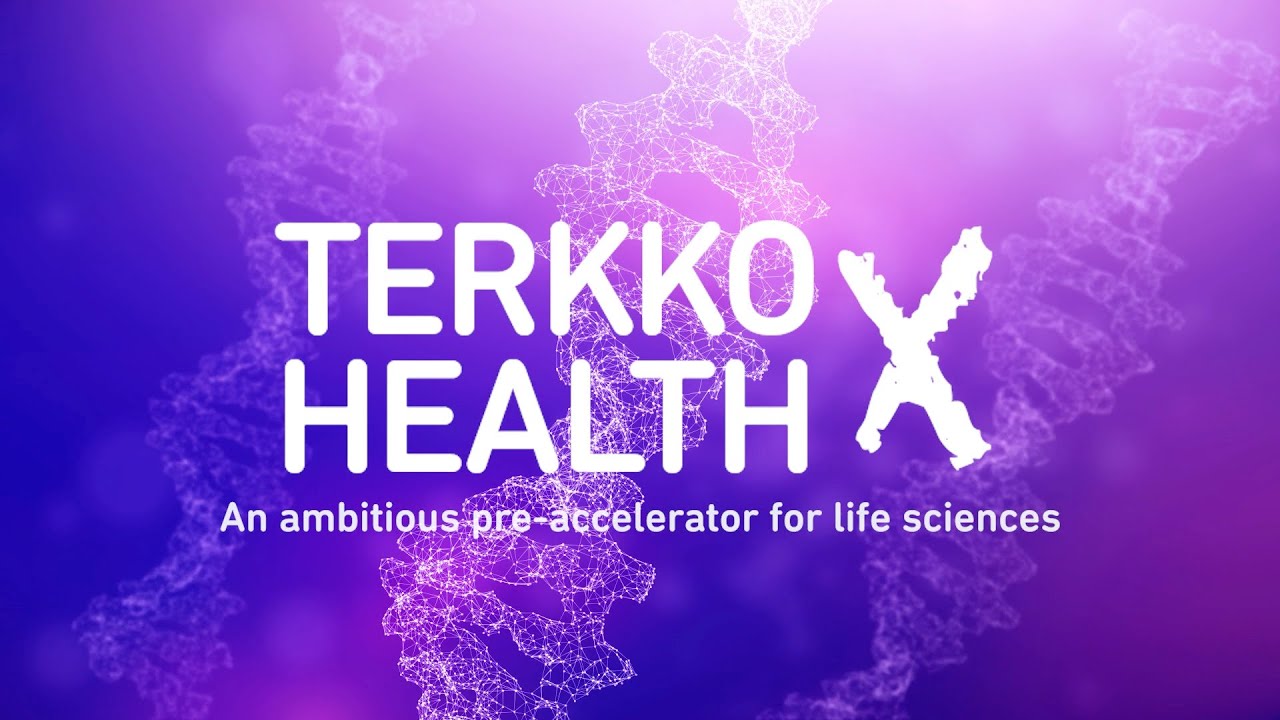 Ideas For Reshaping Health
Researcher, entrepreneur, innovator, or basic degree student. These were the participants of Terkko Health X 2021. The year 2021 marked the third batch of an ambitious programme established back in 2019.  During the programme, the teams learned to show clear proof of concept and the path to profitability, develop a clinical validation plan and start rolling it out while actively engaging with corporate partners.
This page is designated for batch 2021. Visit the main site to learn what fall 2022 has in store for Terkko Health X.
Want to know more?
To learn more about the programme and the previous batches, check out the blogs from the previous years. There you will find more information about the workshops, mentors, and the last year's alumni experiences as well as the reasons to participate in this pre-incubator. In case of any questions, feel free to send them our way at info@terkko.fi.
Application period for Terkko Health X is

6.9.–10.10.2021

. Applications are open until

23:59

on

Sunday the 10th of October 2021

. The teams will be interviewed between

4th–8th of October

and the final decisions will be delivered to all applicants by the

8th of October

.

Terkko Health X is arranged fully

online

and it takes place between

16.10.–26.11.2021

.

The program's language is English.

The program is free of charge for all the participating teams. Participants will not receive any fees from the organiser.

The ideas and concepts born and developed throughout the program are entirely owned by the teams themselves.

We want everyone to feel safe and welcome to our programs and thus Terkko Health X has zero tolerance towards any disrespectful behavior. All participants are expected to follow this policy to ensure that everyone gets the most out of this experience.

Terkko Health X starts with the Opening Weekend on

Saturday 16.10. 10–18

and

Sunday 17.10. 10–17

. The workshops are arranged on Tuesday and Thursday evenings between 17–20 twice a week with minor exceptions. Additionally, the Showcase is held on

Friday the 26th of November

. For further information, see the workshop timeline.

To meet the requirements for participation, the team must have 2 or more members. All workshops are designed for group work and co-creation and thus, a minimum of 2 team members are required to be present in each online workshop. As a participant, your team commits to attending the workshops on the dates stated on this site. Participation also requires independent work outside of the workshops during the program.

After the Terkko Health X, all participating teams have an opportunity to become members of Terkko Health Hub. The teams that become members get a longer incubation phase of 2 months during which the organiser provides the teams with support when needed.

The teams are selected based on 1) potential of the concept 2) the team's competence to realize their concept 3) the ability to commit to attending the workshops and additionally 4) operations based in Finland is seen as a plus but not as a requirement for attending.

Terkko Health Hub and Helsinki Think Company reserve the right to showcase the Terkko Health X teams and projects in events and marketing. Photographs and video material can be shot during the program, and Terkko and Think Company reserves the right to publish this material.

Expert jury nominated by the organiser chooses the winners of the Semifinal and Showcase.

The winning team is rewarded with 2500€ and 2 startup tickets to Slush 2021. The team that is placed 2nd is rewarded with 1 startup ticket to Slush 2021. Additionally, the 1st, 2nd and 3rd teams get 6 months of Terkko Memberships for free. The teams themselves take care of applying for the startup tickets, and Terkko Health Hub pays for the tickets given that Slush accepts the teams' ticket applications.

All participating teams of Terkko Health X get a 50% discount for 6 months of Terkko Membership. Additionally, all participating teams are rewarded with 5 000 AWS credits. These rewards must be reclaimed within six months after the last official day of the program, no later than the 26th of May 2022

.
Terkko Health X 2021 was organised by Terkko Health Hub and Helsinki Think Company. Helsinki Think Company, the entrepreneurship society of the University of Helsinki, is an accomplished incubation program organiser that aims to tackle big, real-life challenges by building a vibrant community of changemakers from multidisciplinary backgrounds.
Program was enabled by
Terkko Health X 2021 Alumni
Most of our 2021 alumni are still in stealth mode. We will add them here when they have a more prominent digital presence.
Meanwhile, take a look at our alumni from previous batches.
Terkko Health X 2021 Mentors
Get to know the mentors that helped our teams in 2021
Philippe Arnez
Chief Business Officer at LS CancerDiag
Lucas Catranis
Director of Connected Health Solutions at Irdeto BV
Alex Felman
Executive Officer of Startup 42 Media
Harriet Gullstén
Senior Advisor, Product Manager Market Access Program to Asia at Business Finland
Saara Hassinen
Managing Director at Healthtech Finland
Anna-Maria Henell
CEO and Co-founder of Disior
Peter Hänninen
General Counsel at Nanoform
Katja Ivanitskiy
CEO at Sartar Therapeutics
Kati Kaijasilta
Business Development Director at Orion
Renne Kaseva
Account Lead, Health & Wellbeing at Business Finland
Christian Lardot
Incubator Lead at Health Incubator Helsinki
Sandra Liede
Regulatory Affairs Specialist at Healthtech Finland
Kieron O'Connell
Senior Associate at Potter Clarkson
Ali Omar
MD, Angel Investor
Petri Parvinen
Professor at the University of Helsinki
Heikki Pitkänen
Senior Expert, Regulations and Quality at Labquality
Arne Schlenzka
CEO and Co-founder of Osgenic
Riku Seppälä
Partner at Icebreaker
Kari Sinivuori
CEO and Co-founder of Uute Scientific
Sebastian Soidinsalo
Independent Consultant
Taina Tervonen
Head of Marketing and Sales at Attorneys-at-law Magnusson Ltd
Jani Tirronen
CEO & Co-founder at Maculaser
Katariina Tonttila
Project Lead at Helsinki Think Company
Tarang Valecha
Startup Ecosystem Development Manager at Amazon Web Services
Charlotta Weber
UK and European Patent Attorney Trainee at Potter Clarkson
Contact us
Want to learn more? Get in contact with Terkko Health X Lead, Liina Laukkanen.
Liina Laukkanen
Project Lead